Make the holidays special this year with a personalized children's book or other special gift from I See Me!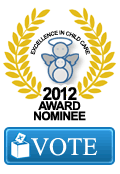 5 years- 12 years

School age children have the opportunity for small group activities and projects that promote peer interaction. School age children learn to problem solve in social interactions and relationships. 3D Daycare's goal is to create an environment in which school age children can develop and maintain self-esteem by having success with their activities and develop positive relationships and friendships.
Pricing:
Fulltime : 75.00
Part time: 55.00
Daily (drop in) 20.00
Registration Fee: 25.00
Call Now!
(817) 714-2382
---