Make the holidays special this year with a personalized children's book or other special gift from I See Me!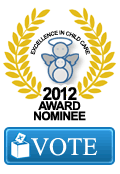 my twins have goon here since Sept 2010 an they love it. this is a great place an I recommend this daycare to my friends. thank you guys....
This is a great place to send your children. I have two children enrolled and they have learned a great deal in the 5 months we've been there. My two year old only knew around 10 words when we started. Now he is speaking in complete sentences and learning to read with the "Your baby can read" program they use in the toddler class. The prices are wonderful and the environment is very friendly. The building itself doesn't look the best, but the owners make up for it with their friendly personalities. I happen to know that right now there are student positions open for the pre-k (3-5yrs) and the afterschool programs. This summer they are going to be doing all sorts of themes such as fun in the sun, sports, and space to name a few. Give them a call and you'll see how much fun it is.